All Saints' Day, Memorial Sunday, Eternity Sunday songs and worship resources in Voices Together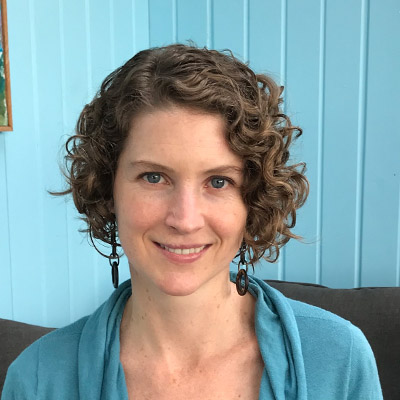 Katie Graber is an ethnomusicologist, who studies race and ethnicity in a variety of contexts, including Mennonite music, American music and European opera. She has taught classes on Western music history and world music, and she accompanies Suzuki recitals and school choirs. She leads singing at her church in Columbus, Ohio, and chairs the Intercultural Worship committee for the Voices Together project.
_____________________________________________________________________________
Celebrating All Saints' Day is a centuries-old Christian tradition, now typically observed on Nov. 1. Mennonites do not have a practice of venerating saints, but many congregations have adopted this celebration as a way to honor deceased friends and relatives — "saints" in a more colloquial understanding of those who have influenced our faith lives. A related commemoration is Memorial Sunday or Eternity Sunday, described by Mennonite Church Canada's online resource center, Common Word, in this way: "A memorial adaptation of All Saints Day, observed primarily in Canada and Germany, commemorating members of congregations and communities who have died within the past year or in prior years. Usually observed on the last Sunday of the Christian Year the week before the start of Advent."
The Common Word link above includes resources for Memorial Sunday/Eternity Sunday, and this blog post will highlight additional material in Voices Together that are related to Memorial Sunday, Eternity Sunday and All Saints' Day. In addition to the worship resources and songs listed below, worship planners can search the "Topics and Uses In Worship Index" for entries such as these:
All Saints' Day.
Comfort.
Death and Eternal Life.
Eternal Life.
Grief.
Heritage (entries include 16th-Century, 16th-Century Anabaptist, Before 1500 and African American).
Indigenous Communities: Resources Related to.
Reign of Christ.
Worship Resources
VT 920 O Ancient of Days (by Eric Massanari, USA, 2019) is a prayer labeled with the heading "Eternity Sunday/Memorial Sunday/All Saints' Day." The small w inside a circle at the bottom of the page indicates that additional material about this prayer is included in the Voices Together Worship Leader Edition. Readers can search the Worship Leader Edition for this title to find the prayer and a brief essay. Here is an excerpt: "Eternity Sunday, Memorial Sunday, or All Saints' Day may include an opportunity for participants to name those who have died … This may also be an occasion for a response practice, such as coming forward to light a candle, lay a stone, or place a flower … Informing the community in advance that remembering those who have died will be the focus of worship gives those for whom grief is recent or raw a chance to prepare themselves or choose to worship elsewhere."
VT 334 Alive is a visual art piece by Anne Hostetler Berry (USA, 2018). The Worship Leader Edition includes artist statements about this piece and all other visual art included in Voices Together. In her artist statement, Hostetler Berry explains that this image is "an unapologetic commentary on the concepts of dark and light within the context of life and death," with the black cross here representing "strength, power, and beauty." The focus on resurrection, along with the image's words, "We will all be changed" and "I am making all things new," could be connected in worship to death, life, grief and more.
VT 981 Everlasting God is a prayer adapted from Hymnal: A Worship Book and the Mennonite Minister's Manual. It speaks to God's presence through a myriad of emotions connected to All Saints' Day and Memorial Sunday: loneliness, fear, hope, sorrow and comfort.
Songs
VT 43 God, Be the Love
Text and music by Richard Bruxvoort Colligan (USA, 2004); text based on the "Prayer of St. Patrick" (Ireland, 5th century)
Richard Bruxvoort Colligan is a songwriter and presenter on music and spiritual formation. He wrote "God, Be the Love" while studying for a Theology and the Arts master's degree, and he has written many Psalm settings and other songs with the description, "Adventurous, imaginative songs for the ever-evolving church."
"God, Be the Love" is one of two settings of the "Prayer of St. Patrick" in Voices Together; the other is 848 "Christ, Be All around Me." In the context of an All Saints' Day service, this text speaks to the enduring presence of Christ, through and beyond our human cloud of witnesses. "God, Be the Love" is simple to sing, yet deeply meaningful in tune and text. A congregation will likely learn the melody quickly, and the harmonies in the single-line refrain can be added when the melody feels comfortable. Another option for introducing this song is to invite the congregation to sing the refrain in harmony as a response to a soloist singing the verses.
VT 64 So lange Jesus bleibt der Herr (As Long as Jesus' Reign Goes On)
German text by Nicolaus von Zinzendorf (present-day Germany, 1742), English translation by Mennonite Worship and Song Committee (2019), music from Russian Mennonite oral tradition (transcribed in Gesangbuch der Mennoniten Brüdergemeinde, 1955)
So lange Jesus is a Russian Mennonite heart song, beloved for its melody and German text more so than for the English translation that was available in Hymnal: A Worship Book. That mid-twentieth-century translation ("The Lord is king, O praise his name, o'er all the earth his praise proclaim!") had a more distant tone and formal word choice than the feel presented by the German text. In addition to the first line's "O" and "o'er," consider this contrast in the beginning of the second verse:
HWB: Oh, see the mighty hand of God, his love and mercy changeth not!
VT: Beloved Word, our saving grace throughout all time, in ev'ry place …
This new translation attempts to soften the tone and bring the translation a bit more in line with the original German text. The overall theme emphasizes the eternal reign of Jesus, and the third verse puts our praise in the context of our forebears: "The song of saints who came before, now gathered on the farther shore." The sturdy harmonies in a fairly narrow range lend themselves to a cappella singing.
VT 23 Hamba nathi (Come, Walk with Us)
Text and music: Zulu, South African traditional, English translation by Gerhard Crawford (USA)
The words of this South African Freedom Song invite singers to feel the presence of those who have gone before. It can work well either at the beginning of a service or at the end, taking on new meanings, depending on its liturgical context. The final verse, "Give us peace when the journey is done," relates well to many themes related to All Saints' Day and Memorial Sunday services.
If the tune is unfamiliar, one leader can direct the congregational vocal parts, while another sings the "Leader" line. A keyboard or vocal ensemble can help support congregational singing, as well. Song leaders may find it helpful to involve the congregation in keeping a steady beat through the syncopation, allowing singers to feel the rhythms through movement or clapping. At the same time, we should not stereotype African music by assuming that all hymns from that continent imply dance or need drum accompaniment. Singing a variety of African hymns in different types of worship services throughout the year can help congregations feel the diversity in African music.
VT 111 10,000 Reasons/Bless the Lord
Text and music by Jonas Myrin and Matt Redman (2011)
10,000 Reasons is one of those rare songs that seems to have become widely loved overnight, and the songwriters say they wrote much of it "in a spontaneous moment." It is based on Psalm 103 and has resonances with the 19th-century hymn "Praise, My Soul, the King of Heaven!" (VT 75). The text and soaring melody calls singers to list the many blessings that God has provided and to do so in the morning, in the evening, through whatever may pass. The last verse calls for us to sing God's praise as our strength is failing and as we die, joining the voices of those who have gone before in singing praise to God. The song works well with piano, guitar or with a full band. A recording can be found on MennoMedia's Voices Together Contemporary Worship playlist.