MennoMedia releasing digital Voices Together products in October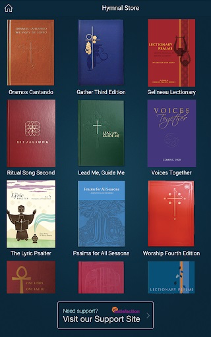 HARRISONBURG, Va. — As the release of Voices Together approaches, MennoMedia is making several adjustments to have products available as soon as possible. Print products will begin shipping in November and most digital products will be available in mid-October 2020.
On October 19, the app versions of the pew edition, the accompaniment edition, and the worship leader edition will be available in the Hymnals app as in-app purchases. This app is available for both iOS phones and iPads. MennoMedia previously advertised that the app was also available for Android tablets. However, the developer is phasing out the Android version of the Hymnals app. Since the longevity of the Android app cannot be guaranteed, MennoMedia recommends purchasing the app versions for iOS devices only. The ebook version of the worship leader edition will also be released on October 19. This ebook can be purchased from the MennoMedia webstore.
"Shipping print products in November means we are in the peak shipping season," says Amy Gingerich, MennoMedia publisher. "Since releasing during this season means longer shipping times, we wanted to find other options to get the products to people sooner."
MennoMedia has learned that shipping could take up to 25 days because of issues related to COVID-19 combined with the high shipping volume expected during the holiday season.
The delayed arrival of print products means the planned Voices Together launch event will be also be delayed. The virtual celebration is now scheduled for 5–7:00 p.m. ET on Sunday, December 13. The event will take place via Zoom and will be a time to worship with new songs and resources, hear stories, and offer blessings for Voices Together and all who receive it. After this time of worship there will be a brief overview of the process and a time for questions with committee members.